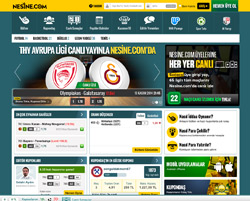 You're Always One Step Ahead With Nesine.com
As a brand of D-Electronics Gambling and Publishing Inc. which is operating as a legal electronic bookmaker of the Directorate of Spor Toto Organization since 2006, Nesine.com is the reliable and progressive web site for gambling.
Operating under the roof of DOL, Nesine.com is also the legal e-ticket dealer for the National Lottery Administration. Furthermore, working trustfully as the legal electronic bookmaker for the Directorate of Turkish Jockey Club from 2006 till July 20th, 2011, Nesine.com is still giving place to information such as daily horse racing bulletins, statistics and race results.
Providing the service of watching the Iddaa games live for its members, Nesine.com is the first and only electronic bookmaker that broadcasts Iddaa games both on web and the mobile platforms.
Aiming to bring together the most accomplished bettors and to pave the path of winning to its members, Nesine.com has also taken an initiative by creating KUPONDAŞ, the biggest coupon sharing platform for Iddaa.
With "Iddaa coupons prepared by its specialized commentators, special daily selections and commentaries broadcasted on Nesine TV",
With "intelligible and detailed match statistics",
With "its user friendly design",
With "making deposits without a second of delay for 7 days and 24 hours with the contracted banks"