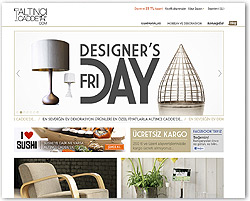 We started off with the slogan of "created the house with style" in 2012 and are continuing to progress growing rapidly. We are meeting on our website or in our stores with home and decoration fans who enjoy with different and high quality details, like to spend time at home, look for the comfort and the elegance and designing stylish living space.
With our customized products which cannot be found anywhere we would like to make feel special as you are in your home and office. We carry the decoration and home trends of the World with imported furniture and accessories to your home.
We are blending our corporate identity within the structure of Doğan Online with our excitement which we reflect our original designs to. We offer the quality with affordable prices as getting the inspiration from the original line of our co-founder Elif Dürüst and bringing the grand designs and our innovative line.
You'll find everything in our store you need for your home and office and these carefully selecting products that we offer for sale on our stores or website not for only the need-based shopping, we also showcases the designs to the shoppers who care about decoration style. We invite you to meet with the pleasure and the comfort of reaching all needs of your home from furniture to the lighting, the service products to the home textile and only from one place.
Stores
Trump Towers AVM
Teşvikiye
Bodrum Plaza