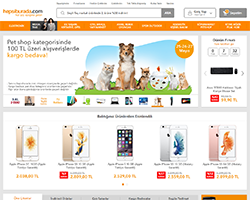 Welcome to the largest and most popular e-commerce site of Turkey!
We are pioneering for expanding the on-line shopping since the year 1998. We came till today by dreaming and creating the difference. We became the flagship of a brand new sector that powers the Turkish economy. We made continuous innovations in order to provide better services to our customers. Not only to caused that the Turkish people to be loved the e-commerce but we also made it indispensable for them.
From computers to smart phones and pads, from books to auto accessories, from sport materials to kitchenware and till diapers, in 27 different categories and with more than 1 million product range we are fulfilling all the needs of our consumers. We are the largest Shopping Mall in Turkey with our 9 million registered customers and more than 50 million visitors per month.
Every year we are adding new awards to our existing ones. We have been considered worthy for Best-Loved Brand of Turkey in the years 2011, 2012 and 2013; E-Commerce Site of the Year Award in 2013. We have been selected as the Most Sincere E-Commerce Site in Turkey in the year 2014, and Most Successful Shopping Site in the year 2015. We have been selected as "superbrand" by Superbrands Turkey, and as "lovemark" in Lovemarks 2015 survey which makes the hit for customers. In another survey made in the year 2016 it has been found that hepsiburada.com is the most intensively used e-commerce site for working women during their on-line shopping activities..
As the leader of E-commerce sector, we are providing services with worldwide product and service volume. We will continue to create innovations and to offer the best experiences to enlarge the sector.
We thank you for choosing us and wish you a happy shopping.