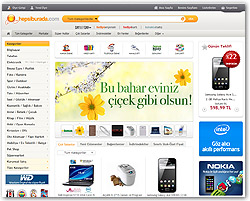 Hepsiburada.com has been established as an e-commerce site aimed at satisfying internet users' needs, since 1998. In addition, it provides to its costumers a wide product range and the best quality of service.
As the most recognized e-commerce brand name in Turkey, hepsiburada.com owns modern facilities of 14.000 m² and a team of approximately 400 employees. It also, has attained 4 million enrolled members, 18,5 million total and 8,5 million unique visitors. Through 36 different categories and more than 360.000 varieties of products, hepsiburada.com obtains more than 20.000 orders each day.
With expansive and strong supplier network, hepsiburada.com, takes orders from 7 continents. Thanks to fast and secure trading, it has a chance to set online trading standarts. By following pegged steps, it has became a brand that makes people love e-commerce in Turkey.
Daybuyday.com
,
alisverissaati.com
,
altincicadde.com
,
evmanya.com
exist as affiliates of hepsiburada.com.
According to "Online Trading Habits" research conducted by Inquision in 2009, hepsiburada.com is the fastest, most secure, best campaign mounting, well-known and most visited shopping site.
As a leader of online shopping, hepsiburada.com is awarded by prestigious companies such as Deloitte and Türkiye Bilişim Derneği as "The fastest growing company in the last 5 years" and " The Best Online Shop" .
Hepsiburada.com has been chosen as "One of the World's Top Trading Sites" by Cnbc-e Bussiness Magazine in 2012. Moreover, hepsiburada.com ranked as the 18th company in Europe's 500 biggest retailers report prepared by "Internet Retail".
Hepsiburada.com constantly improves its corporate power, technological and logistical substructure since it was founded. As a leader and a forerunner brand in Turkey, it enables secure, comfortable and perfect shopping experience.