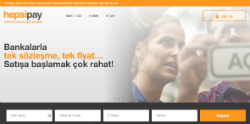 hepsipay is Turkey's leading financial technology and digital payments company. At hepsipay, we are passionate about bringing the latest technology, payment features and speed to finance in order to provide accessible, reliable and secure services to consumers and businesses.
Our full-stack payment platform enables companies build their own experiences and scale their businesses aligned with growing consumer demands. Businesses can focus on building their products while we provide frictionless methods to accept payments online, offline and mobile via our robust system and APIs.
Our advanced analytics platform helps users understand the dynamics of their businesses by managing, monitoring and analysing their transactions. hepsipay's state-of-the-art anti-fraud solution, customized for the Turkish market, enables both consumers and businesses to secure online transactions and reduce chargeback costs.
hepsipay is fully owned by Hepsiburada, Turkey's largest e-commerce company. According to Internet Retailer, Hepsiburada is the largest e-commerce player in Eastern Europe, Middle East, Africa and Russia in terms of revenue. In February 2015, the company received a strategic minority growth investment from The Abraaj Group, a leading investor operating in global growth markets.
Check out www.hepsipay.com for more information.