As an ekolay brand, Oyuncu.com includes popular board games, over 4,000 flash based games of various segments and Monumental Multiplayer Games called MMO. Furthermore, Oyuncu.com is one of the important "players" of the Turkish game market with its enjoyable and special applications, such as Knowledge Contest and True-False, and with its almost 200,000 individual visitors daily.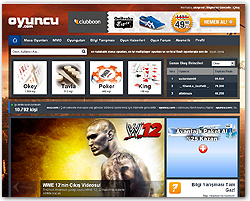 Oyuncu.com comprises 5 main sections:
Multiplayer games:
: Includes multiplayer games of different segments such as action, strategy, RPG and sports. Oyuncu.com cooperates with the sector leading companies as GamersFirst and Bigpoint.
Board Games:
Beside popular games as rummikub, backgammon, batak (a card game), king (a card game) and poker, there are other special games, such as chess, pis yedili (a card game), snap (a card game) and bridge.
Flash Games:
In the portfolio of Oyungutan.com, a subrand of Oyuncu.com, it has thousands of single players, fast, flash-based games liked by children and teenagers, such as action, platform, race, sports, puzzle, skill and mind games.
Game News:
: Oyuncu.com enables access to information on games launched to the market for PC and consols, latest related news, examinations, videos, interesting frames form games and more.
Oyuncu.com Forums:
: Oyuncu.com Forums get larger everyday because of a platform allowing its users to discuss games, communicate clues about games and make comments.
Knowledge Contest:
Knowledge Contest offers unforgettable contest experience with sections as True-False, Intercity Contest, Which Logo? and prize competitions. This section is the meeting point for thousands of competitors of every age and sex.
At first sight;
Online since 2001
One of the most significant game portals of Turkey
Board game fun in full rooms
Special periodical VIP opportunities in MMO's
Customer services support from 9 am to 2 am every weekday
Knowledge contests with prizes
Regularly updated game portfolio