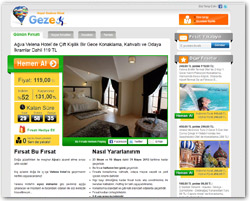 Founded with the motto of "Life is Best when Travelled", as a subsidiary company of Dogan Online, Gezex.com is an e-commerce site that provides travel-lovers vacation and travelling opportunities with up to 70% discounts.
On this fun site full of bargains, you can find great offers for the latest, most popular destinations, as well as for other places that you think would be interesting to visit. In addition to the discounts provided for its members, members can also enjoy many benefits free of charge, such as 5 o'clock afternoon tea parties, welcome cocktails, special room service drinks, as well as spa & massage packages.
If you want to enjoy a vacation at incredible prices at the destination of your preference, including vacation sites near Istanbul, for those vacation lovers who are not able to travel too far outside of the city, top hotels on the Aegean coast, for those who can't get enough of the sun of Agean Region, and the crystal clear beaches of the Mediterranean, Gezex.com is just the right site for you.
It should, however, always be remembered that some of the more extremely popular offers are sold out within only a few hours at Gezex.com, where both Turkey's and the world's most popular destinations are always presented. Since these offers are only for a limited time and for limited spaces, those who come first, win!